Biography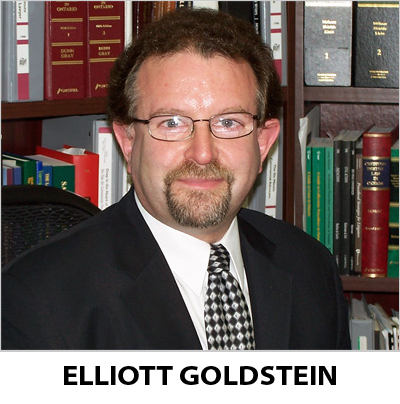 Elliott Goldstein, B.A., J.D. is a York Region lawyer, located in Woodbridge (Vaughan), Ontario Canada, who practices civil, commercial, and estate litigation and consults to the alarm and security industries.
He is a member in good standing of the Law Society of Upper Canada and has been practicing law in Ontario since 1988. Prior to that he was a member of the Bar of British Columbia (1984 to 1987).
In October, 2009, Mr. Goldstein was appointed a Deputy Judge of the Ontario Small Claims Court and presides, part-time, in the Central East Region of Ontario including Richmond Hill, Newmarket, Barrie, and Durham (Oshawa) Small Claims Courts.
In June, 2012, Mr. Goldstein was awarded the Queen Elizabeth II Diamond Jubilee Medal by his member of parliament, The Honourable Peter Kent (Minister of the Environment).
Mr. Goldstein's interest in the application of video technology to the legal process began in 1980 when he was in law school in Saskatchewan. His father, then a Saskatoon lawyer (and now a retired Judge of the Provincial Court of Saskatchewan [1993-2005]), suggested to Elliott that he combine his interest in photography and video technology with the study of the law. Following that good advice, Mr. Goldstein wrote one of the first articles ever published in Canada (in 1981-82), on the use of videotape to record and present evidence in civil and criminal courts.  It was published in the Saskatchewan Law Review.
Since then, Mr. Goldstein has written and published over one hundred and thirty-five magazine and journal articles, and two books on the topic of videotape and photographic evidence. These articles have been published in Canada, the United States, England, and South Africa. Mr. Goldstein has lectured extensively throughout Canada on the legal aspects of video surveillance to local, provincial and national police forces.  He has given seminars at the Canadian Police College in Ottawa and at the Justice Institute of British Columbia in Vancouver.  In addition he teaches the law and legislation portion of the Applied Forensic Videography Course given at the Ontario Police College in Aylmer (near London, Ontario).  He has spoken at many events sponsored by the Canadian Security Association (CANASA). 
Mr. Goldstein's latest book entitled Visual Evidence: A Practitioner's Manual was published in 1991 by Carswell Legal Publishers (Thomson Reuters) and is updated twice yearly. It is now three volumes and contains chapters on the use of videotape and photographic evidence in Canadian civil, criminal, and family law proceedings.